Officer Tommy Norman building community through kindness.
Release Date: 05/03/2016
Officer Tommy Norman of the North Little Rock Arkansas Police Department is one of a kind! When I first began following Tommy, I believed that he must be a community relations officer or school resource officer.
The guy is all over social media talking with the community, showing their good work, this guy interacts with everyone!
I was surprised to learn that he is a front line patrol officer that answers radio calls, arrests bad people and does his calling with incredible respect and integrity. I also learned that it isn't just his style of policing, but an a philosophy that permeates the North Little Rock Police Department from Chief Mike Davis on down.

Tommy was quick to point out that the North Little Rock Police Department truly wants to embrace their community and knows the value of building relationships and trust go a long way in building a better community for everyone!
A couple of weeks ago Tommy went to Prom with a young lady, he delivers toys and clothes out of the back of his patrol car and always has time for a kind word.
If I had to pick three words to describe Tommy Norman from the short time I spent with him and from the digital footprint he has created they would be:
Servant
Humble
Honorable
Follow Officer Norman of his social media channels:
Twitter
Instagram
Facebook
Snapchat - Scan the Snap Code below.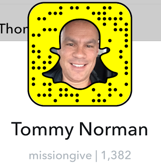 Follow the North Little Rock Arkansas Police:
Facebook

Special thanks to Sgt. Brian Dedrick, the Public Information Officer for setting this interview up.