Amber Mac(Arthur) and Michael Bazzell
Release Date: 06/08/2016
Two incredible power houses in their own fields joined forces to help parents writing the book, "Outsmarting Your Kids Online - A Safety Handbook For Overwhelmed Parents".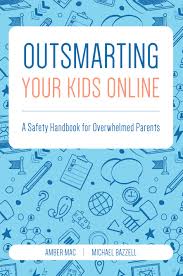 I read this book in about two days. I know some of you could do it in about three hours. It's an easy read but more importantly it's got immediately actionable things you can do to help protect your family.
Amber and Michael talk about the must do's, the need to do's and the should do's that can make an immediate difference in your awareness and knowledge of not only what is happening in your children's life, but what they are doing in their online environment.
More importantly than that, you can recognize the hazards and dangers that might be knocking on their virtual door trying to get into their real world.
Amber and Michael have shared their expertise in the cyber world with you in this book in a way that even the most tech challenged individual can get what they are talking about, relate it to your life and show you just how important the information is.
Think you know everything there is to know? Think again. I've studied both Amber and Michael. I've listened to them teach, I've read their books, I've taken their courses and this book still taught me plenty.
ABOUT MICHAEL AND AMBER...
Amber Mac(Arthur) started her career in San Francisco and Boston during the dot-com boom in the late 1990s. As a strategist for Razorfish and Director of Marketing for an e-procurement software company, she spent four years in the technology start-up trenches.
Amber left the start-up world to join Microsoft to build one of the first female-focused lifestyle portals. In 2006, with her brother, she started her own digital agency called Konnekt. The company's first client was world-renowned business coach, Tony Robbins. Her company's clients include Microsoft Xbox, Ford Motor Company, Tony Robbins, Canada Goose, Fast Company, PayPal, Canadian Blood Services, and many more leading organizations.
In 2010, she wrote the national bestselling business book Power Friending (Portfolio: New York). Amber has keynoted more than 250 events around the world, in which she addresses the topic of business innovation and what it takes for companies to adapt and grow.
Michael Bazzell spent 18 years as a government computer crime investigator. During the majority of that time, he was assigned to the FBI's Cyber Crimes Task Force where he focused on "Hackers" and various computer crime investigations.
As an active investigator for multiple organizations, he has been involved in numerous high-tech criminal investigations including online child solicitation, child abduction, kidnapping, cold-case homicide, terrorist threats, and high level computer intrusions. He has trained thousands of individuals in the use of his investigative techniques.

Michael currently works and resides in Washington, D.C. He also serves as the technical advisor for the television hacker drama "Mr. Robot" on the USA network. His books "Open Source Intelligence Techniques" and "Hiding from the Internet" have been best sellers in both the United States and Europe. They are used by several government agencies as training manuals for intelligence gathering and securing personal information.
You can find them online everywhere, but for simplicity sake, I'll share their websites and their Twitter links:

Amber
Michael
BONUS: For you Mr. Robot fans, off air I got Michael to open up about Season Two...OMG!!! You will love it...well, at least I think you will. He wouldn't say a word other than he's excited about it and look for it JULY 13!!!

If you're not one of the first five to email for your free copy, then click this link to buy the book from Amazon.