Winephabet Street G is for Gruner Veltliner
Release Date: 01/03/2018
I thought I'd begin the new year with some wine education. So if you missed Winephabet Street in December, here is your chance to catch up and learn about Gruner Veltliner the signature grape of Austria.
Winephabet Street is a series where every month Lori Budd of Dracaena Wines and I work our way through the alphabet exploring wine and wine regions. The show is live the third Monday of the month at 8pm. It's free but you must register to attend. Put it on your calendar, pour yourself a glass of wine and hang out with us. If you miss it, you can always catch up here on my blog.
December took us exploring Gruner Veltliner which is the signature grape of Austria. It wasn't until 1990 through DNA analysis they identified who the mother of Gruner was which is Savagnin and in 2007 the father was identified as St. Georgener-Rebe. Most of the Gruner Veltliner is grown west of Vienna in in the lower hills of the Wachu, Kremstal and Kamptal regions. In the hill of these regions is where they plant the Riesling.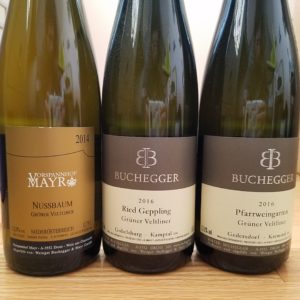 I had a tough choice deciding on what Gruner to open. I had three of them in the house. I opened for this episode was a 2016 Buchegger Gruner Veltliner "Pfarrweingarten" Kremstal Reserve that I purchased for $19.71. Just for your notes the other Buchegger was priced at $13.81 and the Mayr was priced at $9.98. The reason I opened the Pfarrweingarten over the others is Lori was joking on us trying to pronounce it, so I thought, might as well give it a good try. The wine had nice minerality, but I was a little disappointed on the acidity. I thought it would have a bit more zing, but I think that is what I was expecting. A little nectarine, grapefruit and hint of white pepper.
If you like Sauvignon Blanc you will like Gruner Veltliner, I urge you to try it. It has nice zing of acidity, it's food friendly. Let me know if you pick up a bottle and how you enjoy it.
I hope you enjoy this episode of Winephabet Street. Please let me know if you have any comments or questions.
Want to listen on the go - download the podcast below.