Winephabet Street F is for Furmint
Release Date: 12/05/2017
Welcome to Winephabet Street F is for Furmint. Winephabet Street is a series where every month Lori Budd of Dracaena Wines and I work our way through the alphabet in exploring wine and wine regions. We learn about the history of the grape or region, the characteristics, fun facts and suggested wine pairings. The show is live the third Monday of the month at 8pm, it's free but you must register to attend. Put it on your calendar to hang out with us, pour yourself a glass and chat with us.
This episode takes us to Hungary where we explore their signature grape Furmint. This grape and country are close to my heart. My grandfather is from Budapest and his family is from Tapolca located near Lake Balaton. It was here where my Great, Great, Great Grandfather and his brothers established himself in the wine trade. The main Lessner house on Main Street is the house my family lived in and they held the keys to the cellar. From the research I've done, they were very instrumental in the Hungarian wine trade. Now that I got you all off track, let's get back to Furmint.
Furmint is a white grape indigenous to the Tokaji region. Many people think of it as a sweet wine like Furmint Aszú but over the last 15 years they have been producing single varietal Furmints made in one of three styles; stainless steel and barrels both old school and new school.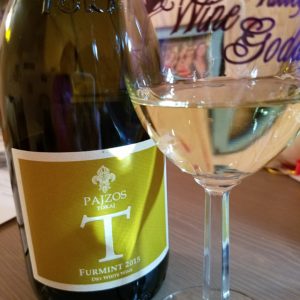 The Furmint in my glass wasPajzos T Furmint 2015.The blend is 90% Furmint, 6% Harslevelu and 4% Yellow Muscat, clocks in at 13% alcohol and was aged in stainless steel for 6 months. It's a high acid wine that lingers on the finish. Love that acidity! At first the wine was skunky, but as it warmed up the skunkiness went away and white flowers, lemon and minerality came to play. It's a nice white wine and would hesitate to purchase it again. $11.99 at Viscount Wines & Liquors in Wappingers Falls.
Sit back and enjoy a glass of Furmint and watch or listen to the show. The podcast is just below the video and can be downloaded.