TMR 057 – Heat
Release Date: 02/07/2021
This week on Total Movie Recall, Ryan stares out the window of his furniture-less modernist home at the endless, uncaring ocean while Steve sleeps on the floor with his hand gripped around his pistol. The pseudo-philosophy of this movie seems deeper than it is because it's endlessly reflected in all the glass buildings of Michael Mann's uber-masculine vision. Sure, it may be pretentious, but that's the point, and if you've got a problem with that, I will take you down, because we ain't exactly doin' thrill-seeker podcasts with "Born to Lose" tattoos on our chests.

Heat (1995)

d. Michael Mann

Starring:
Al Pacino
Robert De Niro
Val Kilmer
Jon Voight
Tom Sizemore
Natalie Portman
Ashley Judd
Kevin Gage
Hank Azaria
Danny Trejo
Henry Rollins
AND Xander Berkeley as RALPH!
Master criminal Neil McCauley (Robert De Niro) is trying to control the rogue actions of one of his men, while also planning one last big heist before retiring. Meanwhile, Lieutenant Hanna (Al Pacino) attempts to track down McCauley as he deals with the chaos in his own life, including the infidelity of his wife (Diane Venora) and the mental health of his stepdaughter (Natalie Portman). McCauley and Hanna discover a mutual respect, even as they try to thwart each other's plans.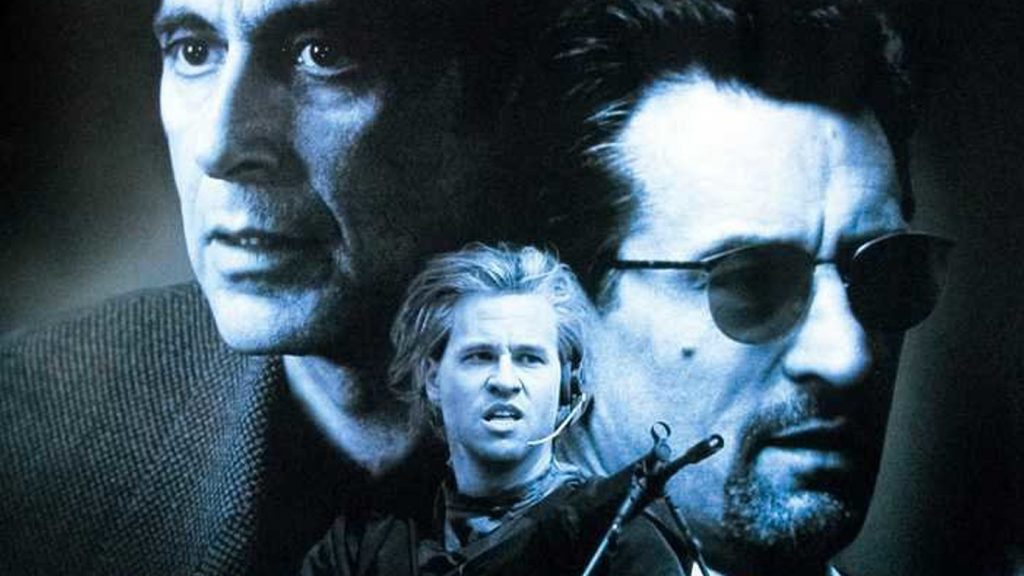 Things discussed in the show:

Zatoichi

At First Sight (Irwin Winkler, Val Kilmer, Mira Sorvino, Kelly McGillis)

Blue Ruin (Jeremy Saulnier, Macon Blair, Devin Ratray, Amy Hargreaves)

Green Room (Jeremy Saulnier, Anton Yelchin, Imogen Poots, Alia Shawkat)

Dead Snow 2 Red vs. Dead (Tommy Wirkola, Vegar Hoel, Ørjan Gamst, Martin Starr)

Dead Snow (Tommy Wirkola, Jeppe Beck Laursen, Charlotte Frogner, Jenny Skavlan)

The Godfather (Francis Ford Coppola, Marlon Brando, Al Pacino, James Caan, Robert Duvall, Diane Keaton)

Idle Hand (Rodman Flender, Devon Sawa, Seth Green, Elden Henson, Jessica Alba, Vivica A. Fox)

Fatman (Eshom Nelms, Ian Nelms, Mel Gibson, Walton Goggins, Marianne Jean-Baptiste)

The Witches 2020 (Robert Zemeckis, Anne Hathaway, Octavia Spencer, Stanley Tucci, Roald Dahl, Guillermo del Toro)

Return to Oz

Zoroastrians

Soul (Pixar, Pete Docter, Kemp Powers, Jamie Foxx, Tina Fey, Graham Norton)

Wall-E (Andrew Stanton, Ben Burtt, Elissa Knight, Jeff Garlin)

Inside Out (Pete Docter, Ronnie Del Carmen, Amy Poehler, Bill Hader, Lewis Black, Mindy Kaling, Kyle MacLachlan, Paula Poundstone, Bobby Moynihan, Frank Oz, Flea)

Mad Max Fury Road (George Miller, Tom Hardy, Charlize Theron, Nicholas Hoult, Hugh Keays-Byrne, Zoë Kravitz)

The Bechdel Test

The Handmaiden's Tale (Bruce Miller, Elisabeth Moss, Yvonne Strahovski, Joseph Fiennes)

Wonder Woman (Patty Jenkins, Gal Gadot, Chris Pine, Robin Wright)

Wonder Woman 1984 (Patty Jenkins, Gal Gadot, Chris Pine, Kristen Wiig, Pedro Pascal, Robin Wright)

Repo Man (Alex Cox, Harry Dean Stanton, Emilio Estevez, Tracey Walter, Zander Schloss)

Wonder Woman and BDSM

The Cleveland Steamer or The Chi-Chi Rodriguez

Allen Moore

The Scarlet Pimpernel 1934 (French Revolution, Madame Guillotine & the Reign of Terror, Harold Young, Baroness Emmuska Orczy, Leslie Howard, Merle Oberon, Raymond Massey)

The Scarlet Pumpernickel (Looney Toons, Daffy Duck, Chuck Jones, Michael Maltese)

Frank Miller's Batman

The Godfather Part III (the re-edit, Francis Ford Coppola, Mario Puzo, Al Pacino, Diane Keaton, Andy Garcia, Talia Shire, Joe Mantegna, Bridget Fonda, Sofia Coppola)

The Virgin Suicides (Sofia Coppola, Kirsten Dunst, Josh Hartnett, James Woods, Kathleen Turner, Danny DeVito)

Bram Stoker's Dracula

Taxi Driver (Martin Scorsese, Paul Schrader, Robert De Niro, Jodie Foster, Cybill Shepherd, Peter Boyle, Albert Brooks, Harvey Keitel)

Kiss Kiss Bang Bang (Shane Black, Robert Downey Jr., Val Kilmer, Michelle Monaghan)

Adaptation (The Orchid Thief, Spike Jonze, Susan Orlean (book), Charlie Kaufman, Nicolas Cage, Meryl Streep, Chris Cooper)

Rex Stout and his character Nero Wolfe

Spike Jonze music videos: Yeah Yeah Yeah's - "Y-control," Fatboy Slim - "Weapon of Choice," Beastie Boys - "Sabotage"

Her (Spike Jonze, Joaquin Phoenix, Amy Adams, Scarlett Johansson)

Where the Wild Things Are (Max Records, Catherine O'Hara, Forest Whitaker)

The Trial of the Chicago 7 (Aaron Sorkin, Eddie Redmayne, Alex Sharp, Sacha Baron Cohen, Joseph Gordon-Levitt)

Abbie Hoffman, Steal This Book, Yippie movement and the 1968 Chicago Democratic Convention

The Murder of Fred Hampton

The Hunger Games franchise (Jennifer Lawrence as Katniss Everdeen, Josh Hutcherson as Peeta Mellark, Liam Hemsworth as Gale Hawthorne, Woody Harrelson as Haymitch Abernathy, Elizabeth Banks as Effie Trinket, Stanley Tucci as Caesar Flickerman, and Donald Sutherland as President Snow)

Gangs of London (Gareth Evans, Matt Flannery, Ray Panthaki, Joe Cole, Lucian Msamati)

Willow

Batman Forever (Joel Schumacher, Val Kilmer, Tommy Lee Jones, Jim Carrey, Nicole Kidman, Chris O'Donnell, Drew Barrymore)

Tombstone (Doc Holiday, George P. Cosmatos, Kevin Jarre, Kurt Russell, Val Kilmer, Sam Elliott, Bill Paxton)

Brian Eno

Thief (Michael Mann, James Caan, Tuesday Weld, Willie Nelson)

Neil McCauley, a calculating criminal and ex-Alcatraz inmate and Detective Chuck Adamson met in real life for a coffee

The Last of the Mohicans (Michael Mann, Daniel Day-Lewis, Madeleine Stowe, Russell Means)

The Keep (Michael Mann, Scott Glenn, Ian McKellen, Alberta Watson)

Miami Vice (Anthony Yerkovich, Don Johnson, Philip Michael Thomas, Saundra Santiago)

The Hays Code

Moby

Kevin Gage's stint in prison

Alex Colville painting "Pacific" as inspiration for Heat scene

Manhunter (Hannibal Lecter, The High Museum of Art, Michael Mann, William Petersen, Kim Greist, Joan Allen)

MC Chris - "Half corn beef and cabbage. Half Fred Savage."

Next week: The Princess Bride